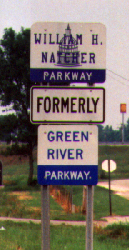 William H.Natcher Parkway
Originally called the BowlingGreen-Owensboro Parkway, this name of this route through west-centralKentucky was later changed to the Green River Parkway when it openedin December 1972. In 1994, the name of the route was changed to theWilliam H. Natcher Parkway in honor of the Kentucky congressman fromBowling Green whose claim to fame was the longest tenure ever servedin Congress without missing a vote. This highway links I-65 atBowling Green to the US 60 bypass at Owensboro. Along with theAudubon Parkway and US 41, it provides a link to I-64 in Indiana. Theroute largely replaces US 231 and provides intersections withmajor routes which cross it, including the WesternKentucky Parkway.
Exit 1A

I-65 South

Nashville

Exit 1B

I-65 North

Louisville

If I-75 is Kentucky's Main Street, then I-65 is the commonwealth's Broadway. This major north-south interstate links Chicago and Mobile, serving intermediate cities of Indianapolis, Louisville, Nashville, Birmingham and Montgomery. In Kentucky, I-65 connects Louisville, Elizabethtown and Bowling Green. The combination of I-65 and the Natcher Parkway make for a high-speed limited access route from Henderson and Owensboro to Nashville.
Exit 4

Exit 4

US 31W

US 31W

Bowling Green

Bowling Green
Franklin

Western Kentucky University

Western Kentucky University

US 31W parallels I-65 through much of Kentucky. It is a major route into Bowling Green. Southbound traffic may prefer to use I-65 south to reach Franklin.
Exit 5

Exit 5

US 68

US 68

Russellville
Bowling Green

Bowling Green
Russellville

Western Kentucky University

Not identified on the exit signs is KY 80, the major east-west through corridor across southern Kentucky. US 68 and KY 80 are multiplexed from the Kentucky Lake area through Cadiz, Hopkinsville, Elkton, Russellville, Bowling Green, Glasgow and Edmonton. A construction project is underway to improve the route from Hopkinsville all the way to Bowling Green; the portion between Russellville and Bowling Green is already complete. The KY 80 /Cumberland Parkway/Daniel Boone Parkway corridor gives a modern route from the Purchase area in the west all the way to the Big Sandy River in the east. The corridor intersects all major routes including the Purchase Parkway, I-24, Pennyrile Parkway, I-65, US 127, US 27, I-75, KY 15 and US 23. US 68 north of Edmonton at the Cumberland Parkway interchange runs through Greensburg, Campbellsville, Lebanon, Harrodsburg, Lexington, Paris and Maysville.
Exit 7

Exit 7

US 231

US 231

Bowling Green

Bowling Green

Last Exit Prior to Toll Section

The "last exit" sign is misplaced; it should be located at Exit 5. All exit traffic must pay toll. US 231 parallels the Natcher Parkway all the way from Bowling Green to Owensboro.
Exit 7

Pay Toll

Exit 7

Thru cars 50 cents. This is the Bowling Green toll plaza. See a complete toll schedule here.
Exit 26

Exit 26

US 231 / KY 79

US 231 / KY 79

Morgantown

Morgantown

Just southwest of this interchange, US 231 and KY 79 multiplex. KY 79 south heads to Russellville, where it intersects US 431, US 79, US 68 and KY 80. The two routes are multiplexed through downtown Morgantown before they split at Aberdeen. KY 79 then heads northeast to Caneyville (intersecting the Western Kentucky Parkway), then on to Rough River Lake, Harned (US 60) and Brandenburg before it crosses the Ohio River into Indiana.
Exit 27

Exit 27

KY 70

KY 70

Rochester
Morgantown

Morgantown
Rochester

This is a recently-built exit which provides access to an industrial park. KY 70 crosses the middle section of the state and intersects several major routes including the Pennyrile Parkway, Western Kentucky Parkway, I-65, US 68, US 127, US 27 and US 150. Rochester is a Butler County community located on the Green River; west of it the highway are Drakesboro, Central City and Madisonville. East of Morgantown, KY 70 connects Brownsville, Mammoth Cave National Park and Cave City.
Exit 34

Exit 34

US 231

US 231

Cromwell
Morgantown

Morgantown
Cromwell

This exit allows traffic to access US 231 several miles north of Morgantown. Southeast of this interchange is Aberdeen, where US 231, KY 70 and KY 79 intersect. KY 70 east goes to Brownsville and Mammoth Cave National Park.
Exit 34

Pay Toll

Exit 34

Thru cars 40 cents.This is the Morgantown toll plaza. See a complete toll schedule here.
Exit 48

Exit 48

KY 69

KY 69

Hartford
Beaver Dam

Hartford
Beaver Dam

Fordsville

Fordsville

Hartford and Beaver Dam are located along US 231 west of the parkway. From Hartford, KY 69 south connects with KY 85 to allow access to Livermore (via US 431) and Madisonville. KY 69 north goes through Fordsville and on to Cannelton, where it intersects US 60 and crosses the Ohio River into Indiana.
Exit 48

Pay Toll

Exit 48

Thru cars 60 cents. This is the Hartford toll plaza. See a complete toll schedule here.
Exit 70A

Bypass US 60 East

Hawesville

Exit 70B

Bypass US 60 West / To Audubon Parkway

Owensboro
Henderson

Ben Hawes State Park

The US 60 bypass is a limited-access semi-circle around the southern part of Owensboro. It intersects major through routes entering Owensboro including KY 54, US 231, US 431 and KY 81. It also provides a connection with the Audubon Parkway to complete the limited-access route to the Henderson-Evansville area.
Backto Guide to Kentucky's Interstates andParkways
GoBack to H.B.'s Roads Page
GoBack to H.B.'s Millennium Highway
Thispage created April 8, 1999
Last modified April 8, 1999
© 1999, H.B. Elkins