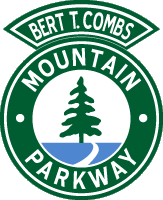 Bert T. CombsMountain Parkway
The Mountain Parkway isone of the most important highways serving eastern Kentucky. Itwas built in the early 1960s and opened in January 1963 as Kentucky'ssecond toll road, and it provides a modern high-speed link from theBig Sandy Valley section of the mountainous eastern portion of thestate to the Bluegrass area. The section from Winchester to Camptonis four lanes and is also designated as part of Corridor I in theAppachian Development Highway System; the portion from Campton toSalyersville is two lanes with passing lanes on hills and isdesignated as part of Corridor R.
The route was originallysigned only as the Mountain Parkway. In the late 1970s, the "Bert T.Combs" name was added to honor the governor from the mountains whohad the foresight to spearhead construction of this highway.Auxiliary plates were added above the circular Mountain Parkwaysigns to mark the designation.
Tolls were removed from thefour-lane section in 1985, and from the two-lane section in1986.
Not only is the MountainParkway an important connector route, it's a vital link for economicdevelopment in the area it serves. It is also a major feeder route,funneling traffic from such cities as Pikeville,Prestonsburg, Paintsville, West Liberty, Hazard, Jackson,Beattyville, Booneville and Irvine toward Lexington andI-75.
Entering
Mountain Parkway

Jct. I-64 West

Parkway Ends

A partial exit marks the westernmost beginning/end of the Mountain Parkway just east of Winchester. Only traffic eastbound on I-64 can enter the parkway; westbound traffic must use Exit 96A and circle back around to I-64 east. Likewise, parkway traffic westbound must enter I-64 westbound and circle back to eastbound I-64 using Exit 96A.
Exit 16

Exit 16

KY 15 / KY 82

KY 11 / KY 15 / KY 82

Clay City
Irvine

Clay City
Mt. Sterling

Irvine

National Guard Training Site

National Guard Training Site

This exit allows access to the small Powell County town of Clay City. Eastbound traffic also uses this exit to KY 15, then KY 82 and KY 89, to reach Irvine. Traffic for KY 1057 must also use this exit, since Exit 18 is a partial exit and allows no access from westbound traffic to KY 1057. KY 15 parallels the parkway from Winchester to Campton. Westbound traffic can also use KY 11, which intersects KY 15 about a mile north of this interchange, to reach Mt. Sterling (and I-64), Flemingsburg and Maysville.
Exit 18

KY 1057

Clay City

This partial exit allows access to KY 1057 only from westbound parkway traffic, and traffic can only enter the parkway eastbound. Accessible from this exit are several recreational sites in the Daniel Boone National Forest in Powell and Estill counties.
Exit 22

Exit 22

KY 213

KY 213

Stanton

Stanton

KY 213 provides access to Stanton, the county seat of Powell County, as well as several recreational areas in the Daniel Boone National Forest south of the parkway. Northbound KY 213 offers access to US 460 at Jeffersonville in Montgomery County.
Exit 33

Exit 33

KY 11

KY 11

Slade
Beattyville

Slade
Beattyville

Natural Bridge State Resort Park

Natural Bridge State Resort Park

Junior Williamson Rest Area

Junior Williamson Rest Area

KY 11 is a major north-south link through east-central Kentucky. It joins KY 15 at Clay City and is multiplexed southbound to Slade, where it veers south to link the towns of Beattyville, Booneville, Manchester (and the Daniel Boone Parkway and US 421) and Barbourville (US 25E, a/k/a the Cumberland Gap Parkway). This exit also provides access to the Red River Gorge recreational area via KY 77. Since there is no exit for KY 77, two miles west of Exit 33, traffic bound for the Gorge must double back on north KY 11 / KY 15. The Junior Williamson Rest Area, named for a Pike County native who shined shoes in the State Capitol and who lobbied for its construction, opened in the late 1980s. It lies just south of this exit.
Exit 40

Exit 40

KY 15 / KY 715

KY 15 / KY 715

Beattyville

Beattyville

Pine Ridge
Rogers

Pine Ridge
Rogers

For eastbound traffic, this exit provides further access to the Red River Gorge via KY 715 north. It also provides an exit for local traffic. For westbound traffic, this is the primary exit for Beattyville, as KY 715 intersects KY 11 about five miles south. KY 715 between the Mountain Parkway and KY 11 is part of the proposed London-to-Ashland highway which will link I-75 and I-64. Most portions of this route are already built or are in the planning stages; about the only portion not on the books is the five-mile stretch of KY 715 in Wolfe County. From this exit, the London-to-Ashland corridor will follow the Mountain Parkway east to Exit 57.
Exit 42

Exit 42

KY 1653

KY 1653

Quillins Chapel Road

Quillins Chapel Road

This new exit opened in 1998, and was built primarily to provide access to an industrial park and commercial development planned for this interchange. Westbound traffic can also use this exit to loop back around to follow Exit 43 for KY 15 south.
Exit 43

To KY 15

Campton
Hazard

Jackson
Hindman
Whitesburg

Buckhorn Lake State Resort Park

This partial exit marks the beginning of Appalachian Corridor R, which follows the Mountain Parkway eastward. Corridor I follows KY 15 south to US 119 (Corridor F) at Whitesburg. This exit also marks the end of the four-lane section of the Mountain Parkway. This exit is for unmarked Spur KY 15. Two miles south, at Campton, it picks up KY 15 and the route goes south to Jackson, Hazard (where it intersects KY 80 and the Daniel Boone Parkway) and Whitesburg. From Whitesburg, US 119 provides easy access to US 23 (Corridor B) at Jenkins and the route through western Virginia and eastern Tennessee to Asheville, N.C. This is also the exit to use for motorists who wish to take KY 191 north to Hazel Green and from there, KY 203 north to US 460. There is no access for westbound traffic; motorists wishing to exit at Campton should either use Exit 46, or continue on to Exit 42 and double back. Similarly, traffic heading north on Spur KY 15 cannot enter the parkway eastbound.
Exit 46

KY 191

Campton

This partial exit allows westbound traffic to reach Campton. There is no access for eastbound traffic (although, since the highway here is an undivided two-lane route, nothing prevents a motorist from turning left from the eastbound parkway onto the exit ramp since there are no "No Left Turn" signs posted).
Exit 53

Exit 53

KY 1010

KY 1010

Hazel Green

Hazel Green

This exit primarily serves local traffic. Hazel Green lies a few miles to the north, but KY 191 is the best route to take to reach this town.
Exit 57

Exit 57

KY 205 / KY 191

KY 205 / KY 191

Lee City
West Liberty

Lee City
Jackson

West Liberty

Eastern Kentucky Correctional Complex

Eastern Kentucky Correctional Complex

KY 205 is a through route linking KY 15 (ARC Corridor I) with US 460. It is an improved route north to West Liberty, and is part of the proposed London-to-Ashland corridor which will follow US 460 and KY 7 to Grayson and I-64. By following KY 205 and then US 460 to West Liberty, traffic can access Morehead (via KY 519) and Sandy Hook and Grayson via KY 7. South to KY 15, improvements are also planned to bring the road to modern standards. KY 191 also provides access to Hazel Green and several small Morgan County communities.
Exit 60

KY 134 / KY 191

Local traffic is served by this exit. Together, KY 191 and KY 134 roughly parallel the parkway from Campton to Salyersville. There is no access from the eastbound parkway, but again, since the road is an undivided two-lane route, daring motorists could make a left turn at the exit ramp. Similarly, traffic entering the eastbound parkway could hang a left and head west.
Milepoint 67

Milepoint 67

Jct. KY 134

Jct. KY 134

At this point, KY 134 and the Mountain Parkway are adjacent to each other. In the late 1980s, the two routes were connected and an at-grade intersection was created to serve local traffic. Caution: there are no turning lanes at this intersection, so eastbound traffic should be on the lookout for stopped vehicles waiting for oncoming traffic to clear before they can turn left.
Exit 72

Exit 72

KY 30

KY 30

There's no destination listed at this exit, but KY 30 connects Jackson and Salyersville. A better route to Jackson, though, is by following the Mountain Parkway westbound to KY 205, then following KY 205 and KY 15.
Exit 75

Exit 75

KY 7 / To US 460 West

KY 7

Salyersville

Salyersville

This exit directs eastbound traffic to downtown Salyersville, where KY 7 intersects US 460 and the two routes are then multiplexed to West Liberty. Southbound KY 7 passes through rural southeastern Magoffin County, eventually intersecting KY 80 and KY 15.
Milepoint 76

Entering
Mountain Parkway

Jct. US 460

End Mountain Parkway

This intersection marks the eastern end of the Mountain Parkway. A left turn onto US 460 west leads into Salyersville. Corridor R continues east on US 460 and KY 114. KY 114 east heads to Prestonsburg, and US 23 south /US 460 east (Corridor B) leads on to Pikeville, Jenkins, US 119 (Corridors F and G) and on into Virginia, Tennessee and North Carolina. US 460 continues to Paintsville, and from there US 23 north leads to Louisa, Ashland (I-64), Greenup, Portsmouth, Ohio and Columbus, Ohio.
Backto Guide to Kentucky's Interstates andParkways
GoBack to H.B.'s Roads Page
GoBack to H.B.'s Millennium Highway
Thispage created April 8, 1999
Last modified April 8, 1999
© 1999, H.B. Elkins