Interesting Signs in Tennessee
---
Tennessee uses arrows with letters for the directions in some places, as evidenced by the sign above at Caryville, at the end of TN 116. The edge of the stop sign covers the "W" on TN 63's directional arrow.
---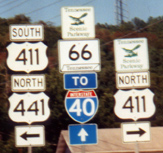 There's a wrong way multiplex of US 411 and US 441 near Sevierville, as shown by these signs. The one above is on northbound US 441; the one below at the southern end of TN 66. Both these signs are at the intersection that Sevierville locals call "The Big (Traffic) Light."
---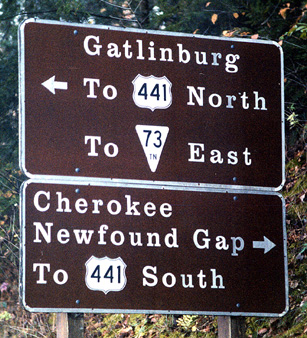 This sign inside Great Smoky Mountains National Park, near the Sugarlands Visitor Center south of Gatlinburg, uses the old-style Tennessee state highway marker with the state abbreviation for the TN 73 marker.
---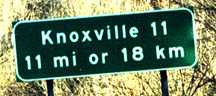 There are a few metric distance signs on interstates near Knoxville, originally installed around the time of the 1982 World's Fair and as evidenced by this one on southbound I-75.
---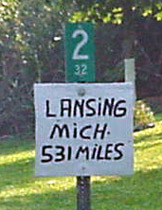 This homemade distance sign has been mounted on a mile marker post on northbound US 25E south of New Tazewell for years. This sign also shows how Tennessee signs its "hidden" state routes along US highways.
---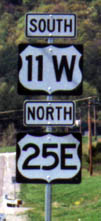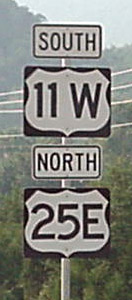 These two photos, taken at different times of the same assembly, show the wrong way multiplex of US 11W and US 25E near Bean Station, between Cumberland Gap and Morristown.
---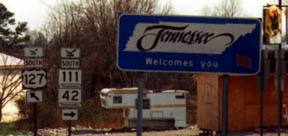 In recent years, TN 42 between Static (at the Kentucky state line) and Cookeville was renumbered TN 111. Most signs along the route still show both TN 111 and 42 markers. Most of the mile markers have been changed to TN 111 markers, but as shown above, some still say the route is TN 42.
---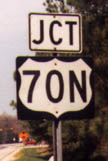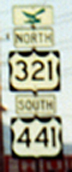 Tennessee makes use of some odd-shaped US route shields, like the one for US 70N (near Cookeville) and US 321/441 (at Pigeon Forge). The Pigeon Forge assembly also shows a wrong-way multiplex. See more from Pigeon Forge here.
---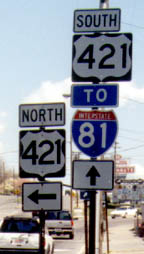 A US 421 assembly on US 11E in Bristol, just south of the Virginia state line, with both wide and narrow format signs.
---
There are some interesting signage quirks involving US 321 and US 441 in Pigeon Forge, Tenn. See those signs here. Also, there is an odd directional change involving US 321 at Elizabethton, which can be viewed here. To see some interesting signs at Static, a town on the Kentucky-Tennessee border along US 127, click here.
---
Go back to the Interesting Signs page
Go back to the Millennium Highway home page
Copyright © 1998-2002, H.B. Elkins