Signs &Sights from Perry County, Ind.
---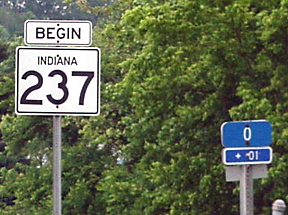 Begin IN 237 sign with an Indiana mile marker at the north end of the Ohio River bridge at Cannelton, across the river from Hawesville, Ky. In this case, the mile marker is located one/one-hundredth of a mile north of the state line, as indicated by the +.01 notation below the zero.
---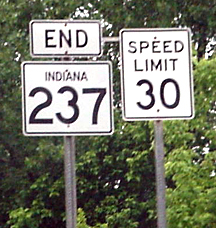 End IN 237 sign, located across the road from the "Begin" sign shown above, as you approach the bridge to Hawesville, Ky.
---
View of the Bob Cummings Lincoln Trail Bridge on southbound IN 237. This bridge connects Cannelton, Ind., with Hawesville, Ky. At this point, the road is actually no longer IN 237, but is KY 69, since technically the state line has already been crossed.
---
Signage on northbound IN 237 where it intersects IN 66, just north of the Lincoln Trail Bridge. The signs at left are the same ones as can be seen in the shot at right.
---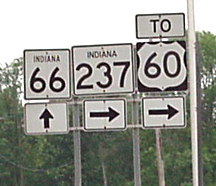 Signage on eastbound IN 66, where southbound IN 237 splits to cross the Lincoln Trail Bridge. US 60 is located across the Ohio River in Hancock County, Ky., and never enters Indiana.
---
Goback to the Indiana page
Goback to the Signs and Sights page
Goback to the Millennium Highway home page
Thispage created Nov. 21, 2001
Last modified Aug. 18, 2000
Copyright © 2001, H.B. Elkins