InterestingSigns in Virginia
---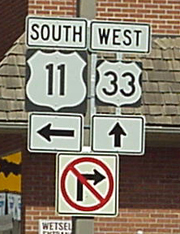 A normal-sized US 11 signnext to a smaller US 33 sign in Harrisonburg.
---

The two signs which appear tobe blank actually are US 23 shields,which are faded to the point thatthey appear to have no numbers in them.
---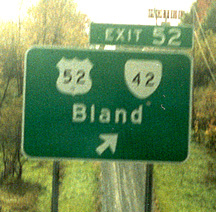 Some exit signs, such as thisone on southbound I-77, have some "skinny" US route shields and smallnumbers.
---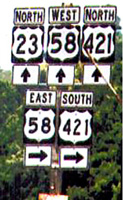 Different fonts and numeralsizes on US 58 and US 421 shields in Gate City, just north of theTennessee state line.
---

Despite the fact that US 460has not run through Bluefield in years, the route is still signed.The VA 102 shields are cutouts, as well.
---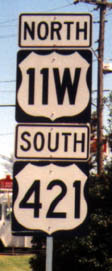 Directional duplicity inBristol, just north of the Tennessee state line.
---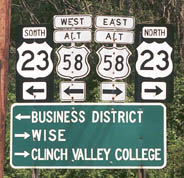 The US 58 signs on thisassembly at Norton are new reflective cutouts; the US 23 signs areone-piece markers with the directional shield, route marker and arrowall on one black panel.
---

Kentucky signs its stateroutes in circles, the same as Virginia secondary routes. Todifferentiate between the two, and to show that the route actuallyleads to KY 38 and not a Virginia route, the word "Kentucky" isspelled out in this sign at Keokee.
---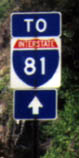 A non-cutout I-81 shield on awhite background in Bristol.
---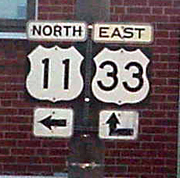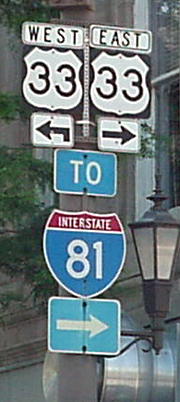 These US 33 signs inHarrisonburg display an unusual font.
---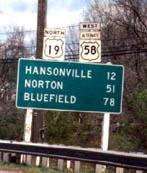 Notice the white backgroundon these US route signs near Abingdon.
---
Goback to the Interesting Signs page
Goback to the Millennium Highway home page
Copyright© 1998-2002, H.B. Elkins