Interesting RoadSigns
at Static, Ky.
---
Static is a town straddling the Kentucky-Tennessee line on US 127. The convenience stores on the Kentucky side sell lottery tickets; the ones in Tennessee sell beer and fireworks. Static is home to some unusual signage.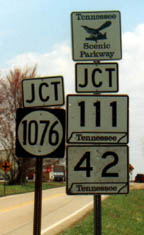 As you approach Static from the north on southbound US 127, you see this sign assembly. It's located in Kentucky, but has both Kentucky and Tennessee state highway markers on it.
As you arrive at the state line, you see this sign. The destination sign appears to be a Tennessee sign, but the route number signs are of Kentucky origin. Note the use of the wide marker for KY 1076 in this assembly, but the use of a square sign in the previous assembly.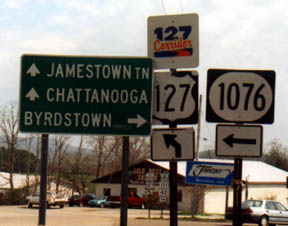 Seen in the distance behind these signs are the ones below. No doubt who made these signs; they're Volunteer State all the way.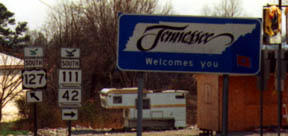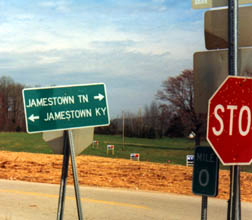 Jamestown, Tenn., is the first town you encounter on US 127 southbound. Jamestown, Ky., is the second town US 127 passes through in Kentucky (Albany is the first). This sign, manufactured by Kentucky, directs travelers coming onto US 127 from TN 111 to the correct Jamestown, if in fact that's where they're heading. The stop sign is for a Clinton County highway that also ends at this intersection. The 0 mile marker is the Kentucky mile marker which presumably marks the state line. The backs of the signs at the right of the photo are Tennessee signs directing northbound US 127 traffic onto TN 111. The little signs in the field in the background were there to mark the state line for an auction to be held sometime after this photo was taken in April 1999.
---
Goback to the Kentucky page
Goback to the Interesting Signs page
Goback to the Millennium Highway home page
Copyright© 2002, H.B. Elkins