Signs and Sights from Lewis County, W. Va.
---
Two "pentagon" route signs, located just off US 33-119 between I-79 and Weston. These signs designate "orphan" roads or HARP roads, West Virginia's newest local route classification.
---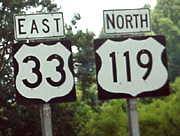 US 33 and US 119 signs just east of I-79.
---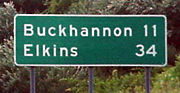 Mileage sign on US 33-119 east of the I-79 interchange.
---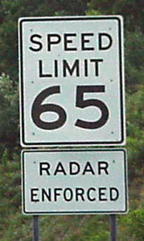 Speed limit sign on four-lane US 33-119. The highway is part of Appalachian Corridor H, which is complete from Weston to Elkins. Eventually it will run all the way to the Virginia state line between Wardensville and Strasburg. It was originally planned to run all the way to I-66 at Strasburg but Virginia has decided not to build its section. West Virginia signs its rural four-lane surface routes at 65 mph.
---
Exit 99 signage on northbound I-79.
---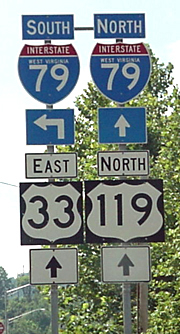 Signage on eastbound US 33/northbound US 119 at the I-79 interchange at Exit 99.
---
Go back to the West Virginia page
Go back to the Signs and Sights page
Go back to the Millennium Highway home page
This page created May 2, 2000
Last modified Aug. 18, 2000
Copyright © 2001, H.B. Elkins