Signs & Sights from Scott County, Mo.
---
Signage for the I-55 exit on southbound I-57.
---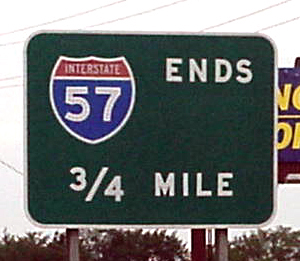 The official "I-57 ends" sign, approaching I-55, with the numerals in button copy.
---
Above, the southern end of I-57 at I-55 (US 60 continues as a through route). Below, the beginning of northbound I-57.
---
Go back to the Missouri page
Go back to the Signs and Sights page
Go back to the Millennium Highway home page
This page created Nov. 21, 2001
Last modified Aug. 18, 2000
Copyright © 2001, H.B. Elkins