Interesting Signs in West Virginia
---

Directional duplicity in Bluefield involving US 19 North and US 52 south.
---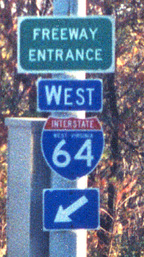 California-style "Freeway Entrance" sign on US 60 at I-64 at South Charleston.
---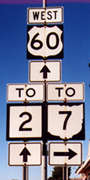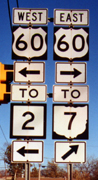 OH 7 signs in Huntington, apparently manufactured and erected by the WVDOH.
---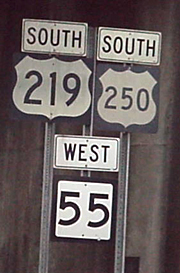 Old and unusual square sign for a three-digit US highway in West Virginia. This sign assembly, at Elkins was replaced shortly after this photo was taken in June 2000.
---

Different shield shapes and fonts on US 60 signs at the end of WV 601 at South Charleston.
---

Directional duplicity of North US 52 and south WV 16 at Welch.
---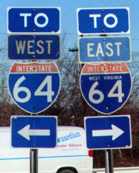 I-64 shields both with and without the state name on WV 601 at South Charleston.
---
Go back to the Interesting Signs page
Go back to the Millennium Highway home page
Copyright © 1998-2002, H.B. Elkins