Interesting Signs in Virginia
---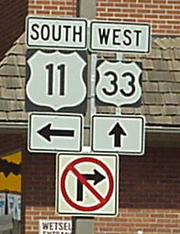 A normal-sized US 11 sign next to a smaller US 33 sign in Harrisonburg.
---

The two signs which appear to be blank actually are US 23 shields,which are faded to the point that they appear to have no numbers in them.
---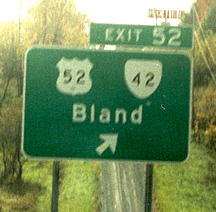 Some exit signs, such as this one on southbound I-77, have some "skinny" US route shields and small numbers.
---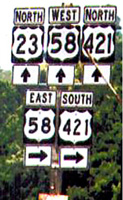 Different fonts and numeral sizes on US 58 and US 421 shields in Gate City, just north of the Tennessee state line.
---

Despite the fact that US 460 has not run through Bluefield in years, the route is still signed. The VA 102 shields are cutouts, as well.
---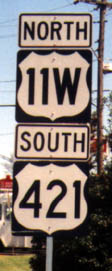 Directional duplicity in Bristol, just north of the Tennessee state line.
---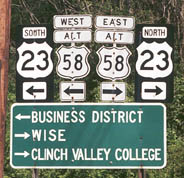 The US 58 signs on this assembly at Norton are new reflective cutouts; the US 23 signs are one-piece markers with the directional shield, route marker and arrow all on one black panel.
---

Kentucky signs its state routes in circles, the same as Virginia secondary routes. To differentiate between the two, and to show that the route actually leads to KY 38 and not a Virginia route, the word "Kentucky" is spelled out in this sign at Keokee.
---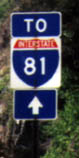 A non-cutout I-81 shield on a white background in Bristol.
---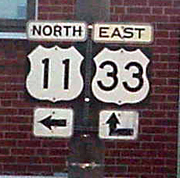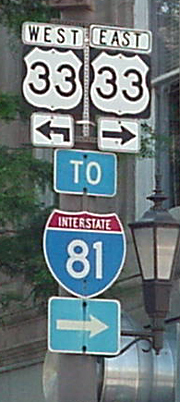 These US 33 signs in Harrisonburg display an unusual font.
---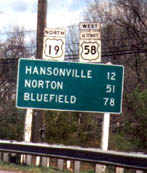 Notice the white background on these US route signs near Abingdon.
---
Go back to the Interesting Signs page
Go back to the Millennium Highway home page
Copyright © 1998-2002, H.B. Elkins