Interesting Signs in Ohio
---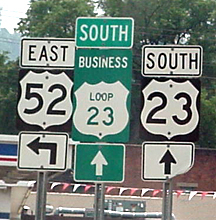 This unusual green Business Loop US 23 sign is located in Portsmouth.
---


Wide and square signage for OH 527 at the OH 7 intersection in Chesapeake, above. Below, signs in Chesapeake for WV 527, not OH 527, even though they are on the north side of the Ohio River.

---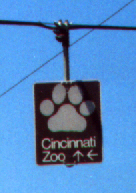 Unusual logo sign for the Cincinnati Zoo.
---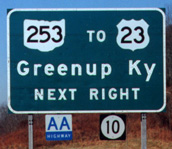 Attached to this guide sign on US 52 are Kentucky-installed AA Highway and KY 10 markers.
---

Does US 25 still enter Ohio? Signage at the Ohio end of the Clay Wade Bailey Bridge indicates that yes, it does, despite claims to the contrary. The sign above seems to indicate that US 25 begins at the point where US 42/127 make a 90-degree left turn off Third Street in Cincinnati onto the approach to the bridge.
---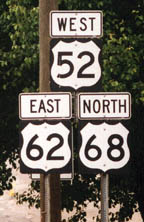 A wrong-way multiplex of westbound US 52 and eastbound US 62 in Aberdeen, with a northbound route (US 68) thrown in for good measure. US 68 is an east-west route in Kentucky but is signed north-south once it crosses into Ohio.
---
Go back to the Interesting Signs page
Go back to the Millennium Highway home page
Copyright © 1998-2002, H.B. Elkins